News & Updates
2017 Member Meetings
The Cooperative will be hosting five member meetings this year. Member meetings are a great opportunity for members to get together and hear about the Cooperative and ask questions.
Oronoco | October 2 - 6:30 pm (light meal at 6:00 pm)
PEC Headquarters, 1775 Lake Shady Avenue South, Oronoco, MN 55960
Plainview | October 3 - 12:00 pm (light meal at 11:30 am)
American Legion Post 179, 215 3rd Street SW, Plainview, MN 55964
Byron | October 10 - 6:30 pm (light meal at 6:00 pm)
Byron Primary School, 820 7th Street NE, Byron, MN 55920
Chatfield | October 12 - 6:30 pm (light meal at 6:00 pm)
Chatfield Center for the Arts, 405 Main Street S, Chatfield, MN 55923
Stewartville | October 17 - 12:00 pm (light meal at 11:30 am)
Stewartville Civic Center, 105 1st Street E, Stewartville, MN 55976
To help us plan accordingly, please RSVP by emailing rsvp@peoplesrec.com or by calling (800) 214-2694. Please include your name, which meeting you will be attending, and the number of guests that will be attending.
September Newsletter
Click here to access the September Highline Newsletter. The online spot your number for September is 52.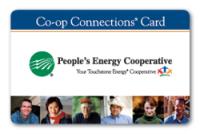 Co-op Connections
Just by showing your Co-op Connections Card, members can take advantage of savings at local and national businesses! For a full listing of local discounts available along with more information about the program, click here.
People's Community Solar array in Elgin has now been energized. If you are interested in harnessing the sun's power call (800) 214-2694 today! Click here for information and answers to frequently asked questions.
Click on the appropriate program to view current load control information for Residential Load Control and Commercial-Industrial-Agricultural Load Control.

Operation Round Up
The next round of Operation Round Up grant applications are due by 4:00 p.m. on Wednesday, September 20, 2017, to be considered for third quarter 2017 grant money. For more details and an application, click here.
Can't find what you're looking for or have a question, contact us.