Water Heating Programs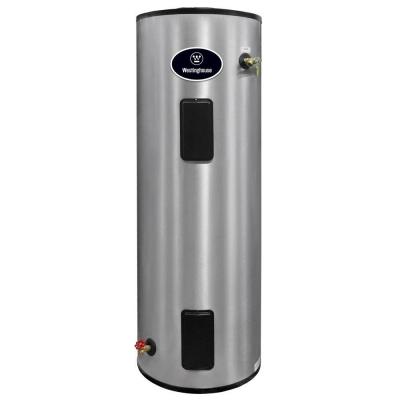 Electric water heaters are clean, safe, and energy efficient and People's Energy Cooperative stocks 80 gallon residential and can order 100 gallon Westinghouse water heaters. Receive a rebate of $250 or $400 towards your water heater purchase when they are connected to one of the following load management programs:
Demand Saver Program - 80 gallon minimum
Dual Fuel Program - 80 gallon or larger (electric heat must be primary heat source and metered separately.)
Off Peak Program - 100 gallon minimum (metered separately)
How the Programs Work
During periods of peak energy consumption radio signals are transmitted from our power supplier, Dairyland Power Cooperative in La Crosse, Wisconsin, to the thousands of individual radio receivers located at members' homes and businesses throughout the system. These radio receivers turn off power to your water heater during peak periods and turn it back on after the period of peak energy use is over. Despite having the power off, the tank acts as a storage facility keeping the existing water in the tank at an acceptable temperature. The Cooperative furnishes and installs the radio receiver.
Water Heater Features
Westinghouse 316L Stainless Steel Electric Water Heater
No Anode Rods Needed
Lightweight and Durable
Thermostat and High Limit Controls

Commercial Temp: min 120°F, max 180°F

Versatile

Light Commercial, Business, and/or Residential Applications

Top of the Tank Connection

Brass Nipples with Heat Traps

The Finest Protection

Laser welded through a concentrated heat source producing high quality, long lasting, 316L stainless steel tank construction (lightweight)
Superior corrosion resistance eliminates the need for anode rods and protects against harsh water conditions for a life-time of durability against leaks

Minimal Heat Loss
Stainless Steel & Incoloy Elements

Low watt density, stainless steel screw plugs
Increases corrosion resistance for extended, longer element life

Warranty

Limited lifetime warranty (when registered online)
For more warranty information visit http://www.westinghousewaterheating.com
Water Heater Specs & Rebate Information

| | | | |
| --- | --- | --- | --- |
| Gallon Capacity | Possible Rebate | Thermal Efficiency | Dimensions (inches) |
| 80 | $250 | 98% | 69 x 23 1/4 |
| 100 | $400 | 98% | 61 x 27 |
Please call our offices for pricing information.
Summer Economic Control Window (May-October)
Small Water Heater (80 gallon & under) 7:00 PM to 11:00 PM
Large Water Heater (above 80 gallon) 6:00 PM to midnight
Dairy Water Heaters 6:00 PM to 11:00 PM
Limits on length of control
Small Water Heater = 4 hours in 10
Large Water Heater = 6 hours in 10
Dairy Water Heater = up to 6 hours after 5:00 PM
Load Management Programs are reviewed yearly.
People's Energy Cooperative does not deliver or install water heaters.