Landscaping and Tree Planting Guidelines
Whether you are planning to add trees or shrubs to your yard, please make sure you are aware of your overhead and underground power lines.  You can help minimize tree-related outages and ensure reliable electric service by choosing the right tree or shrub for any location.
Vegetation Management
We practice proactive vegetation management in order to minimize outages related to trees and shrubs.  For more information regarding our vegetation management policies, please click below.
Tree Planting Reminders
Plant trees away from underground utilities to prevent roots from interfering with underground pipes, cables, and wires.  Future repairs to these facilities could damage the health and beauty of nearby plants and trees.
If you are planting trees on your property, make sure you never plant them directly under or within at least 25 feet of power lines for shorter trees and at least 40 feet away for medium-sized trees.  Refer to the chart below.
Always look up.  Make sure to always look for nearby power lines before you cut down any tree or trim branches.  If a tree falls into a power line, contact People's Energy Cooperative right away.  NEVER APPROACH A DOWNED POWER LINE or TRY TO REMOVE A TREE OR BRANCH THAT HAS FALLEN ON A POWER LINE!
Keep areas around electric meters, transformers, or other electrical equipment free of vegetation that could limit utility service access.
If you have trees growing or leaning toward power lines, contact People's Energy Cooperative.  Never try to prune them yourself.  We can recommend skilled professionals to safely trim trees for electric line clearance.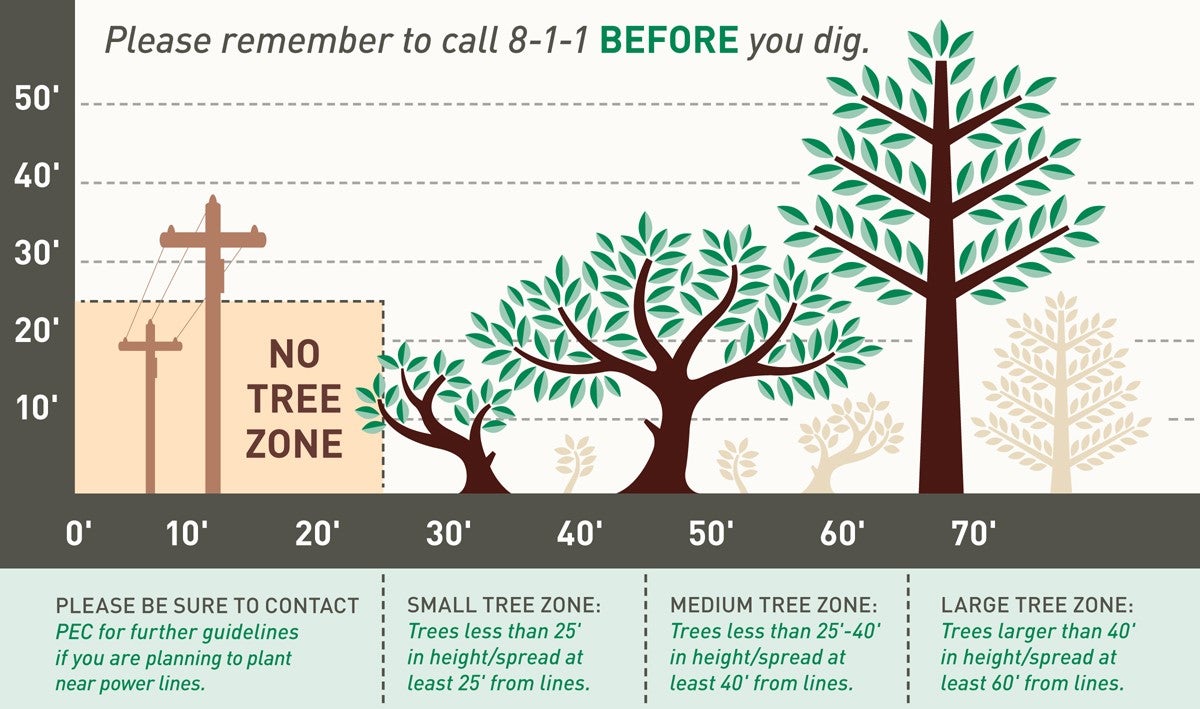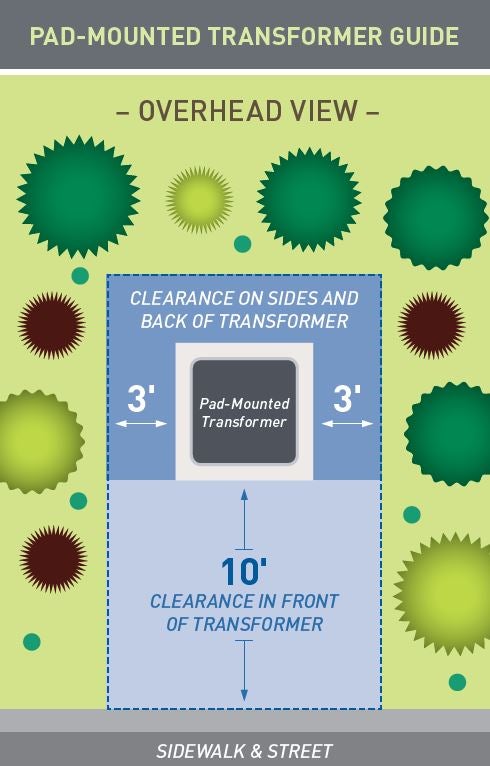 Species Deciduous
| | |
| --- | --- |
| Height (feet) | 20 |
| Width (feet) | 20 |
| Shape | Round |
| Fall Color | Yellow |
| Shade Tolerance | No |
| Notable Flower | Yes |
| Notable Fruit | Yes |
| Other Notes | A hardy red apple with a yellow blush and a hint of tartness, keeps very well, late harvest; eating apples are high maintenance and need a second pollinator; the perfect combination of accent and fruit tree, needs well-drained soil and full sun |
| | |
| --- | --- |
| Height (feet) | 20 |
| Width (feet) | 20 |
| Shape | Round |
| Fall Color | Yellow |
| Shade Tolerance | No |
| Notable Flower | Yes |
| Notable Fruit | Yes |
| Other Notes | An exceedingly crisp hardy red apple with a sweet and juicy flavor, keeps extremely well; eating apples are high maintenance and need a second pollinator; the perfect combination of accent and fruit tree, needs well-drained soil and full sun |
| | |
| --- | --- |
| Height (feet) | 20 |
| Width (feet) | 20 |
| Shape | Round |
| Fall Color | Yellow |
| Shade Tolerance | No |
| Notable Flower | Yes |
| Notable Fruit | Yes |
| Other Notes | A distinctively yellowish-green apple with good, sweet flavor, notably hardy, keeps well; eating apples are high maintenance and need a second pollinator; the perfect combination of accent and fruit tree, needs well-drained soil and full sun |
| | |
| --- | --- |
| Height (feet) | 20 |
| Width (feet) | 20 |
| Shape | Round |
| Fall Color | Yellow |
| Shade Tolerance | No |
| Notable Flower | Yes |
| Notable Fruit | Yes |
| Other Notes | One of the most famous hardy red apples, excellent for cooking, keeps well; eating apples are high maintenance and need a second pollinator; the perfect combination of accent and fruit tree, very hardy, needs well-drained soil and full sun |
| | |
| --- | --- |
| Height (feet) | 20 |
| Width (feet) | 20 |
| Shape | Round |
| Fall Color | Yellow |
| Shade Tolerance | No |
| Notable Flower | Yes |
| Notable Fruit | Yes |
| Other Notes | A brand new early red apple with an excellent balance of flavors, keeps well; eating apples are high maintenance and need a second pollinator; the perfect combination of accent and fruit tree, needs well-drained soil and full sun |
| | |
| --- | --- |
| Height (feet) | 20 |
| Width (feet) | 20 |
| Shape | Round |
| Fall Color | Orange |
| Shade Tolerance | No |
| Notable Flower | Yes |
| Notable Fruit | Yes |
| Other Notes | A shrubby fruit tree with showy clusters of white flowers in spring followed by luscious black plums in mid-summer, variable growth habit; this is actually a cross between a cherry-plum and a plum so it's slightly hardier than most plums |
| | |
| --- | --- |
| Height (feet) | 20 |
| Width (feet) | 20 |
| Shape | Round |
| Fall Color | Yellow |
| Shade Tolerance | No |
| Notable Flower | Yes |
| Notable Fruit | Yes |
| Other Notes | A popular hardy fruit tree with show fragrant white flowers in spring and loads of tasty blue prune-plums in late summer; an open, spreading tree, quite ornamental; needs full sun, well-drained soil and a pollinator |
| | |
| --- | --- |
| Height (feet) | 20 |
| Width (feet) | 20 |
| Shape | Round |
| Fall Color | Yellow |
| Shade Tolerance | No |
| Notable Flower | Yes |
| Notable Fruit | Yes |
| Other Notes | A hardy fruit tree with showy fragrant white flowers in spring followed by tangy deep red fruit in late summer, great for fresh eating, rather ornamental spreading habit; needs full sun and well-drained soil, a good pollinator for other plum varieties |
| | |
| --- | --- |
| Height (feet) | 18 |
| Width (feet) | 15 |
| Shape | Upright |
| Fall Color | Red/Purple |
| Shade Tolerance | No |
| Notable Flower | Yes |
| Notable Fruit | Yes |
| Other Notes | A compact and hardy pear, this University of Minnesota introduction produces tasty medium-sized reddish-brown fruit in late summer on an upright and vigorous plant, showy white flowers in spring; a great choice for the home orchard |
| | |
| --- | --- |
| Height (feet) | 15+ |
| Width (feet) | 15+ |
| Shape | Round |
| Fall Color | Yellow/Orange |
| Shade Tolerance | Yes |
| Notable Flower | Yes |
| Notable Fruit | Yes |
| Other Notes | Cultivars: 'Sungold', 'Moongold' 'Manchu'. May need winter protection from rabbits. |
| | |
| --- | --- |
| Height (feet) | 20+ |
| Width (feet) | 20+ |
| Shape | Oval |
| Fall Color | Yellow/Orange |
| Shade Tolerance | Partial |
| Notable Flower | Yes |
| Notable Fruit | Yes |
| Other Notes | Suitable for planting under some utility lines (primaries); deicing salt tolerant. Cultivar: 'Autumn Splendor'. |
| | |
| --- | --- |
| Height (feet) | 20+ |
| Width (feet) | 20+ |
| Shape | Round |
| Fall Color | Yellow |
| Shade Tolerance | No |
| Notable Flower | Yes |
| Notable Fruit | Yes |
| Other Notes | Cultivars: "Spring Snow", "Prairiefire".  Because of maintenance involved with crabapples, many of the varieties are best suited for parks; thee cultivars may be considered for street use, however.  All crabapples may need winter protection from rabbits. |
| | |
| --- | --- |
| Height (feet) | 20+ |
| Width (feet) | 20+ |
| Shape | Round |
| Fall Color | Copper/Orange |
| Shade Tolerance | No |
| Notable Flower | No |
| Notable Fruit | No |
| Other Notes | Suitable for planting under some utility lines (primaries); deicing salt tolerant |
| | |
| --- | --- |
| Height (feet) | 15+ |
| Width (feet) | 12+ |
| Shape | Oval |
| Fall Color | Yellow |
| Shade Tolerance | No |
| Notable Flower | Yes |
| Notable Fruit | Yes |
| Other Notes | Cultivars: 'Ivory Silk'.  Bark has attractive lenticels.  Deicing salt tolerant. |
| | |
| --- | --- |
| Height (feet) | 12+ |
| Width (feet) | 8+ |
| Shape | Vase |
| Fall Color | Yellow |
| Shade Tolerance | No |
| Notable Flower | Yes |
| Notable Fruit | No |
| Other Notes | Suitable for planting under some utility lines (primaries); deicing salt tolerant |
| | |
| --- | --- |
| Height (feet) | 15+ |
| Width (feet) | 10+ |
| Shape | Round |
| Fall Color | Yellow/Orange/Red |
| Shade Tolerance | Partial |
| Notable Flower | Yes |
| Notable Fruit | Yes |
| Other Notes | Native to all of Southeast Minnesota; 'Autumn Brilliance', tolerant of spray salt |
| | |
| --- | --- |
| Height (feet) | 12+ |
| Width (feet) | 6+ |
| Shape | Oval |
| Fall Color | Red/Maroon |
| Shade Tolerance | Partial |
| Notable Flower | Yes |
| Notable Fruit | Yes |
| Other Notes | Native to all of Southeast Minnesota |
| | |
| --- | --- |
| Height (feet) | 8+ |
| Width (feet) | 10+ |
| Shape | Round |
| Fall Color | Red |
| Shade Tolerance | No |
| Notable Flower | No |
| Notable Fruit | Yes |
| Other Notes | Native to all of Southeast Minnesota; site tolerant; will root sucker if not maintained |
Species Conifer
| | |
| --- | --- |
| Height (feet) | 15+ |
| Width (feet) | 6+ |
| Shape | Pyramidal |
| Fall Color | Green |
| Shade Tolerance | Partial |
| Notable Flower | No |
| Notable Fruit | Yes |
| Other Notes | Native to Blufflands and Twin Cities Highlands; Cultivars: 'Techny', 'Brandon' |
| | |
| --- | --- |
| Height (feet) | 15+ |
| Width (feet) | 6+ |
| Shape | Pyramidal |
| Fall Color | Green |
| Shade Tolerance | No |
| Notable Flower | No |
| Notable Fruit | Yes |
| Other Notes | Native to all of Southeast Minnesota; tolerates hot and dry sites; produces a cone that looks like a blue-green berry; Cultivar: 'Canaertii' |
| | |
| --- | --- |
| Height (feet) | 15+ |
| Width (feet) | 6+ |
| Shape | Pyramidal |
| Fall Color | Blue Green |
| Shade Tolerance | No |
| Notable Flower | No |
| Notable Fruit | Yes |
| Other Notes | Does better than other plants on dry, rocky, or sandy soil |